---
Hi, I'm Vince Gordon...
I've been a professional rockabilly guitarist and singer with my trio, The Jime, since 1982. The Jime has put out 6 albums since then and toured extensively. We still record songs and a new album is always on the way. You can check us out and listen to free samples at The Jime's website.
I'm also the editor of "The Rockabilly Guitar page" where I give my take on good rockabilly gear and how to get "the" rockabilly sound.
After requests from several guitar playing fans, I wrote a beginners guide to rockabilly called "How To Play Rockabilly And Get Good - Fast!". I also made an audio CD with rockabilly jam tracks to play along to. It's called 'Jam With The Jime' because it's with The Jime's rhythm section like it appears on our records.
I wanted to give fellow players the opportunity to play to real backing band in stead of a metronome or similar. The jam CD is also great for other instruments like piano and sax, as it's only bass, drums and rhythm guitar. An intermediate eBook called "Intermediate Rockabilly Guitar Lessons" followed shortly after and another CD with backing tracks will hopefully be out in late 2012.
I also did a video that has cause quite a stir amongst guitarists. The video demonstrates my successful attempt at recreating the guitar sound on some of Elvis Presley's earliest recordings. You can watch it on YouTube and see my article on Scotty Moore's guitar sound here.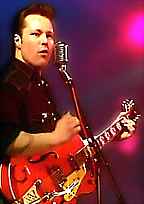 TV appearance.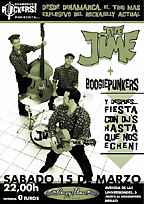 Concert in Bilbao, Spain.
The author: Vince Gordon.
The Jime have six highly acclaimed rockabilly CDs out:
Click here for sound samples.
Here's a recent interview with Vince Gordon from the US Newspaper The Valley Advocate.
"Listen to that guitar break howling through your speakers, awesome! Vince 'The Guitar Wizard' Gordon at full speed!" - Marijn Raaijmakers, The BlackCat Website, Holland.
"Vince pulls out some leads that would even make old Setzer himself a little green with envy." - Mattfink , Planet Rockabilly, USA.
"In my opinion, he is one of the best guitar players in the rockabilly scene." - Rollin' Danny, RockaChicka.com, Germany.
"Idiotically good guitar playing." - Frans van Dongen, Boppin' Around Magazine, Holland.
The Jime's CD "It's Still Rock'n'Roll To Me" was the best selling rockabilly CD for six months in a row on Nervous Records UK's international sales charts.
Here are videos from YouTube with my band, The Jime (Go buy the CD! :-)
Here's a vid for my eBook on intermediate rockabilly lead guitar playing: